The increasing demand and trendiness of fixed gear bikes are one of the many the reason for their high market price. With the growing popularity of adventure sports, many brands are now offering premium bicycles.
We all know, increasing demand for a particular product leads to a reduction in supply as more and more people begin purchasing the product. As a result, there is much less of that product on the market, resulting in higher prices. This is just basic demand and supply theory.
A vast number of brands have presented their offerings, ranging from $400 to $1500. But is this hefty price really justified? Should you spend less money or invest in a good fully faired bike? In this article, we'll answer all of your questions and explain why fixie bikes are so expensive and popular.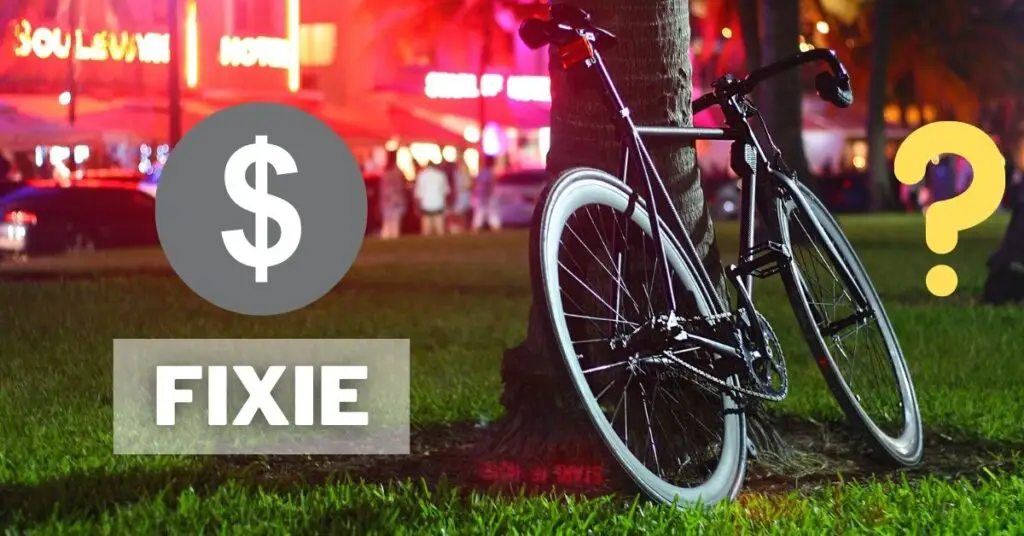 Why Are Fixed Gear Bikes So Expensive?
Fixies may seem expensive in relation to some other types of bikes but not all. We have to know that fixies are a certain kind of road bike. So most of the processes involved in manufacturing a road bike (geared) are also used in the making of fixed gear bikes.
Let's see the exact reasons why fixies seem expensive……
Reasons Behind the High Price (Decoded!)
1- Quality-to-Price Ratio
People usually do not consider buying cheap bikes because of the fear of receiving a malfunctioned bike. The elements used in the production of such bikes are not of the highest quality and thus they lead to common problems like denting, chipped paints, missing pasts, riding failures, etc.
On the contrary, things are significantly better in the case of fixed-gear bikes. Due to the simple working mechanism and minimalistic look, quality control is a top priority even at a base price.
2- Low Maintenance
Fixies allow you to focus on the ride instead of having to worry about shifting gears. Just cruise without much effort. Due to the absence of gears, the amount of maintenance they require is considerably less.
3- Convertability
Some of the modern day fixies may be turned into a single-speed cruise with a quick flip of the back wheel.
Fixed gear bike sure are good in many ways (including a total-body workout) but if you don't enjoy it, you have the option of switching it into another bike.
4- Longevity
Absence of complicated machinery, abrasion, and weather-resistant material make these bikes extremely long-lasting. The qaulity brakes stop the bike when you need them to. The tires keep you rolling when they should. The fork and frame will not break or bend any time soon.
A steel fixie with a stable body equilibrium will also provide comfort for long rides down bumpy paths.
In building fixies, many types of bike frames are used. Mainly these are the same frames as used in a road bike, track bike, or mountain bike. The frames can come in a variety of materials such as Titanium, High-end carbon or steel, steel, or aluminum.
5- Specialised Components
The component that really makes a fixie what it is is the rear hub.
The screeching sound of freewheel ratchets and chains might be annoying for some. To overcome these minor caveats, specialized components like sealed bearings, fender mounts, bottle noses, and improved ground clearance are provided in fixed gear bikes.
The absence of extra cables, shifters, and shockers gives a featherweight feeling to your bike, leaving out room for better maneuverability.
6- Minimal Factory Imperfections
Most of the premium segment bikes promise that all the equipment will be precisely put in place and would be of good quality.
Freestyle pedals, ⅛" chain, riser handlebars, front and rear brakes, 30mm Deep V rims and finally thick, stable tires are offered which provide a sense of safety and assurance.
7- Fashion Appeal
Let's be honest, when it comes to Gen Z buyers, looks and aesthetics are some of the factors that top their list. These bikes are trending these days due to their classic and forthright looks.
The increasing desire to purchase fixed gear bikes with such attractiveness motivates the seller to sell them for a much higher price than usual. Everybody would rather have a fancy bike than a plain one.
8- Resale Value
Another reason for its high price is that it is a one-time purchase because it will not require any major maintenance and may easily last up to 5-7 years if properly maintained.
Reselling a fixed gear bike is not a big deal. You can sell it on bike forums, ebay, craiglist, facebook, online marketplaces, a pawn shop etc.
Comparison With Other Bicycles
The following table takes a look at the average price range of other bikes that you will come across in the market.
| | |
| --- | --- |
| BIKE CATEGORY | AVG. PRICE RANGE |
| Fixed gear Bikes | $300-350 |
| Mountain Bikes | $1000 |
| Single-speed Bikes | $400 |
| Beach Cruisers | $200-300 |
| Recumbent Bikes | $1000-2000 |
Here we see bikes that are both cheaper and costlier than fixed geared bikes. The main reason for such a vast difference in price is the varying factors such as design, material, functionality, etc.
Some Affordable Offerings
If you are just getting started, then buying an affordable bike first seems to be a reasonable choice. Here are some affordable fixie alternatives that you can consider purchasing:
Golden Cycles Fixed Gear Bike
If simplicity is your ultimate sophistication, then this is the bike for you. You can get it in black and white tones. It has a lightweight aluminum chassis and custom-made riser bars. BMX pedals, flip flop hub, and ergonomic design are some of the upsides of this bike.
Schwinn Kedzie Single Speed Bike
This bike comes in an attractive pallet of colors. This reliable brand has been in the market for decades and is known for its quality. This cycle has a steel frame and alloy brakes. It features 700cc wheels and designer labels all around.
6KU Fixed Aluminium
Its aluminum frame gives it optimal weight distribution and pedal power. The monochrome coating also prohibits the bike from being prone to any kind of corrosion. It also has the standard flip flop hubs and a riser bar which can be adjusted quite easily.
Frequently Asked Questions
Q. Are Bikes with Gears better than Fixed Gear Bikes?
Geared bikes provide you more possibilities than any other type of bikes. When compared to fixed gear bikes, they are more expensive, require more maintenance, need special shoes to ride, have chains which are can slip and, are less comfortable.
Q. Can I Change a Geared Bike into a Fixed Geared One?
Yes, it can easily be done with the use of the original rear hub.
Q. What's the Difference between a Mountain Bike and a Road Bike?
Mountain bikes are built to be ridden gently, with a focus on speed control. Road bikes, on the other hand, are frequently ridden on flatter, less varied terrain and prioritize speed over control.
Final Thoughts!
So there you have it, now you know all the reasons behind the extreme popularity and high price of these bikes. Growing popularity among the masses, high resale value, and superior components are the main reasons behind the high price.
As a bicycle enthusiast, I strongly believe that spending some money on quality gear will save you from repair expenses over the long haul. Some users also like to mix and match and buy a pricey frame to pair it up with cheap gear instead.
However, if you are just beginning your cycling journey I would suggest you go with a factory-ready bike and leave the customization for the latter part of your journey.
Cheers!