Converting bicycles have been the in-thing for a while now. Usual bicycles are now being converted to electronic bicycles, multiple geared ones are also being changed to fixed-gear bicycles and vice versa.
What's more is that while a majority are opting for fixed gear bikes, there's also a clamor for road bikes. Because although a fixie is a simple outdoor ride, the road bike is definitely an upgrade with its multiple gears and ability to function on all terrains.
Have you ever wondered if you can still convert that fixie of yours into a road bike? Read on! I've got answers for you.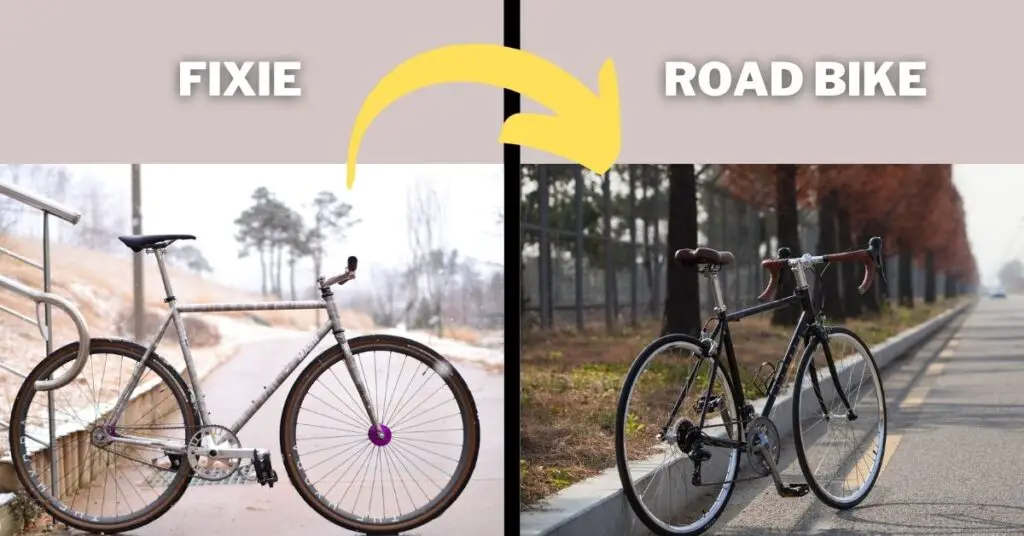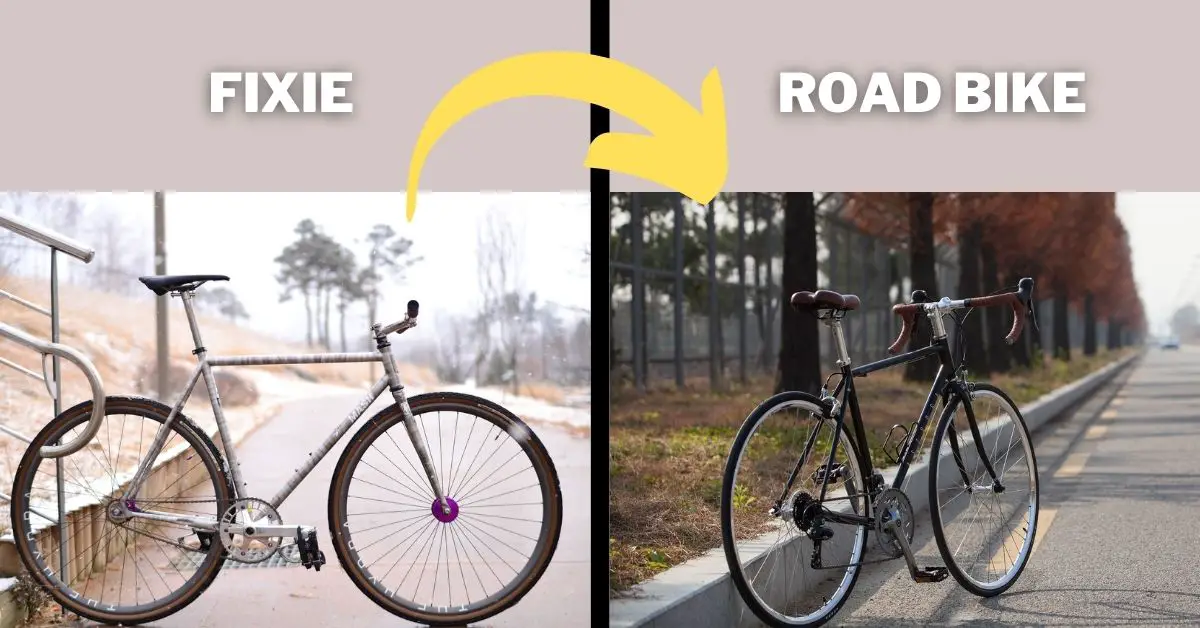 Can You Convert a Fixie into a Road Bike?
Absolutely!
While fixies were in vogue years ago, road bikes have always been a constant because of their functionality. It is usually a tough choice when you need a road bike but cannot seem to let go of your favorite fixie or maybe you just need a road bike without having to actually buy a new bike. The good news is that converting your bike is still a possibility.
Before you go ahead, I would love to give you a heads-up on what you will be getting into.
Converting, Am I Making the Right Choice?
Pros of a Road Bike
1- You can ride a road bike on all terrains, both urban and rough.
2- It is easier for beginners to use the road bike since there is less peddling going on.
3- Multiple gears and functions make riding and braking easier on the road bike.
4- Road bikes are faster than fixies, since their speed is easily adjustable.
5- Ideal for long-distance or challenging-surface rides.
6- Ease of maneuvering.
Cons of a Road Bike
1- Cost of conversion
2- Expensive parts replacements
3- Overall maintenance expense compared to a fixie
Is It Easy to Convert a Fixie into a Road Bike?
Converting a fixie is a task worth taking on at home. However, you have to be sure you are ready to go through with the process as it requires a good measure of skill and time.
There are two options you've got; you can pay a bike mechanic to convert your fixed gear ride to a multiple geared road bike or choose to get the necessary tools and get started by yourself.
Although the first time 'taking on this project' can be quite an experience, it only gets better with the right tools and patience.
What to Consider When Trying to Convert?
Your Dropout Design
This is a major factor to consider before conversion because your frame's dropout design determines a lot. For more flexible options, the dropout design of your bicycle should have a hanger for a derailleur. If it does not, your options become more limited.
If the rear hub is about 120mm wide with one cog, there would be a need to extend the rear wheel to 130mm so as to fit the gears properly.
Cost Effect of Conversion
Converting to a road bike automatically means you are adding multiple parts to your fixie, and that is inevitable. More parts mean more cost. If you then decide to use a bike mechanic, that's also an additional cost. Converting your bicycle yourself is both satisfying and cost-effective.
Cost Value of Your Used Bicycle
Bikes depreciate over time as they go through wear and tear. In essence, a $200 bike after a few years of use and deterioration will not be valued at that same price but lesser. So, before going through the conversion process, you should be aware of your bike's cost value and the cost effect of conversion on your budget.
Picking the Right Conversion Kits
If you are planning to convert your fixie without professional help, the first step is to know the essential materials needed for your transition. For instance, changing to a road bike means you'd need a 39T-52T crank-set ratio and 11T-28T cassette ratio and not just any crank-ring you set your eyes on.
Thankfully, it is no longer the '80s, and converting a fixed gear bike to a road bike has just gotten easier with the use of custom conversion kits from bicycle manufacturers. There are many kits out there that can be used for converting a fixie to a road bike.
Here's a list of tools you should have in your reach before starting your conversion project.
1- A screwdriver
2- A chain cutting tool
3- Cable and housing
4- Rear derailleur
5- Cable cutters
6- Speed cassettes
7- Chainrings
8- Etc.
Moreover, the Six Fyx Conversion Kit from the Fyxation Bicycle Company is a complete wheel conversion kit that makes converting to a six-gear bike easier, and guess what, it comes highly recommended too.
This kit contains the above listed tools and features many more tools you would need to upgrade gears into your bike.
Although it is usually best to use converting tools from your fixie's actual manufacturer, it is not a hard and fast rule. However, note that whatever tool kit you choose should contain tools from one manufacturer so as to prevent issues with compatibility.
How to Convert a Fixie to a Road Bike on Your Own
In simple terms, the converting process from a fixed gear bike to a road bike has to do with replacing your fixie's normal transmission system with a new set of gears and linking this to the bicycle's handle for level control. Derailleurs and hub gears are the major gear replacement mechanisms.
Here is a short four-step guide to converting from a fixie to a road bike…..
STEP 1: Get the bike ready: to get started, position the bike on a bike stand and then remove the chain and completely deflate the rear tire. Finally, release the rear wheel with an Allen wrench.
STEP 2: Set up the cog set: after undoing the lock-ring and removing the fixie's cog, the new speed cog can now be installed with the splines of the hub after which you can grease up and then tighten back to position your cog set and rear wheels.
STEP 3: Install the shifter pod: without the grip on the handlebar, the shifter pod can be installed after which the handlebar grip can be replaced. Ensure the shifter cable is not roughly arranged from the handlebars to the rear. The rear derailleur can now be installed with the shifter fitting into its cable slot.
STEP 4: Install the chain: the final step is to install the chain on the bike and fix it central to the rear cog. Your bike is ready for a hill trip!
Fixie Vs Road Bike
A fixie is a type of bicycle with fixed gear. That basically means you cannot switch gears on a fixie like you can on most modern bicycles. The fixie usually has its drivetrain joined to the hub of the back wheel, what this does is that once the wheels are in motion, the pedals, the drivetrain, and your legs also move simultaneously. A fixie doesn't have a freewheel.
Riding a fixed-gear bike is a lot of work, considering how much energy and calories you exhaust while riding on different routes.
The road bike, on the other hand, is a multiple gear bicycle that allows for riding in different terrains or landscapes. The road bike can be used to ride up a hill comfortably or ride on asphalt. This bike's multiple gears makes it easier to coast and maneuver different routes.
Comparatively, the fixie has a much more simple-build, unlike the road bike. In terms of maintenance, the fixie is a cost-effective version of the road bike, since its parts are fewer.
When it comes to adjusting speed and gearing, fixed gear bikes are less effective compared to road bikes. The multiple gears on the road bike make it possible to switch gears and move easily on different terrains.
In simpler terms, the fixie is a great choice for short to moderate-distance rides and a low maintenance budget while the road bike guarantees an incredible riding experience for outdoor cycling. Moreover, while the road bike might seem like less work, it's still a good workout equipment.
Converting a Fixie to a Road Bike
There are several reasons to consider changing your fixed gear bike to a road bike. The multiple gear options for one, the flexibility of climbing hills, and also riding on roads is also a valid reason.
Instead of buying a totally new bike for a ride up the hill, converting a fixie you own into a road bike is often a better option.
Concerned about making the right decision? Here, I have made you a list of the pros and cons of converting your fixie to a road bike.
Conclusion
Several factors can make you consider converting your fixed gear bike to a road bike. However, After going through these processes, it is important to confirm that all the installed parts are working as effectively as they should before major road activities.
Cheers!