As a biker, you always want a lighter bike, have a smooth riding experience, and better shifting. Many people are also obsessed with the appearance of their bikes and want to make them look appealing at all times.
In order to achieve all this, out of the many ways, one is to upgrade your crankset. The question is not just limited to whether you should upgrade or not but also when to consider upgrading, what to look for in your new purchase, etc.
And in this article, I am discussing the common questions about upgrading cranksets.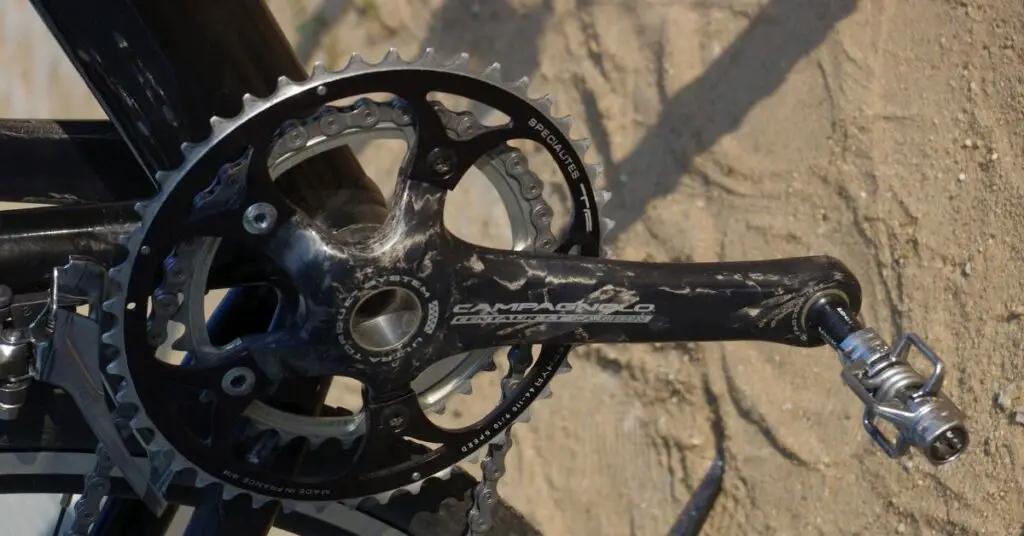 Is Crankset Worth Upgrading?
Absolutely! The main purpose of upgrading your crankset is for performance improvement and that means adjusting or replacing the crankset to get an improved experience. So yes, the crankset is always worth upgrading.
The crankset is the part of the bicycle that includes the chainrings and the crankarms and sometimes the bottom bracket too. It processes the pedal's leg pressure into a force to drive the rear wheel forward.
When Should I Upgrade?
Your crankset needs a change when your chainring and other components start to get worn. Although these changes might not be seen, they can be assessed in your riding experience.
Moreover, when the teeth of your chainrings start to look scattered, that means the chainring is worn and it needs a replacement.
In essence, if you are having problems shifting on the crankset or its bearing systems are not running smoothly, your crankset needs an upgrade.
How do I know What Crankset I Need?
Before choosing a new crankset, the most essential thing to be aware of is your type of bicycle and what you use it for. A racer most likely wants a lighter bike while a casual rider might opt for the usual design the bike comes with.
What crankset you need is determined by what you use your bike for and what type you own.
Why Upgrade Your Crankset?
Upgrading your crankset comes with numerous advantages and that's a major leap in knowing if an upgrade is really worth it or you should just stick with what you've got already.
Here's why it can be worth it……
1- WEIGHT
Having a lighter bicycle is a major pro to upgrading your crankset. Most high-end and quality cranksets are manufactured with this in mind, resulting in a very lightweight upgrade.
These lighter upgrades usually weigh between 560g-750g, although THM Carbones have recently launched a 320g crankset which has been the lightest so far.
2- TERRAIN
The landscape you wish to use your bike in influences your choice of upgrade. Riding on a rough or hilly landscape means you need lower gearing to climb. However, riding on a smooth landscape will only require using the usual double cranksets.
3- AESTHETICS
An upgrade in crankset is usually synonymous with having a more pretty-looking bike as the new installment gives the bicycle a new look, more like a face-lift.
4- COMFORTABILITY
An upgraded crankset means you have modified your chainrings, crankarms, and the likes. These modifications all result in a better riding experience.
5- STRENGTH & DURABILITY
Quality cranksets are manufactured with good materials (such as carbon fiber, titanium, Chromoly steel, etc. Tubular steel cranks (which are strong and light) are getting popular as well.
6- SAFETY & STIFFNESS
Quality cranksets are bound to be safe, as they improve the stiffness of the bike and result in more balanced peddling efficiency for the rider. The stiffer the wheel is- that is, the less it flexes- the easier it will be to accelerate the bike.
Considering efficiency, an upgraded crankset will make your front shifting much better.
7- VARIATIONS
Very good cranksets come with component options for the rider to select from. This is usually in component sizes and length.
8- BALANCE
Good cranksets have an influence on your peddling balance and how centered your pedals feel under your feet. This influence has a lot to do with how your crankset can support various chainring types, ranging from the big, small to the elliptical.
9- EASE (DIY)
Modern crankset options have been optimized for easier installation and dissembling.
What to Consider When Upgrading a Crankset
When considering an upgrade to your crankset, the following are aspects you need to think through, so as to be fully prepared for what you are getting into.
1- Cost Effect of Upgrade
Upgrading your crankset can always be done depending on your budget range. Although some believe that lower-end cranks are not as qualitative as the expensive ones, the cost-effectiveness of an upgrade is not so low either way.
2- Desired Length Availability
Knowing the length you want for your crank arm is important as it improves your riding experience. However, in some cases, the desired length you wish to upgrade into might not be available and this can be disheartening. For instance, 165mm is a hard-to-find size to come across compared to 170mm.
3- Size, Height & Other Preferences
Since the crank arm length is the distance between the center of the pedal to that of the bottom bracket, the height of the rider must be considered before installing an upgrade. The most common and accessible cranksets range between 170mm, 172.5mm, and 175mm.
When considering crank length, it is always better to stick to medium sizes and not extremely short or long options. You can check the size of your crank at its back, below the pedal axel, where it is usually engraved, or use tape to measure.
4- Riding Purpose
Your choice of crankset upgrade is determined by what you use your bike for and what type of bike you own. Indirectly, your type of bike influences your choice of crank weight, the number of chainrings in the crankset you choose, and the number of teeth the chainrings have.
What Difference Do Cranksets Make?
Cranksets generally come in single, double, and triple formats. Therefore, before upgrading the crankset of your bike, this determines what you upgrade into and how you upgrade.
The crank arms of a bike come in various materials that make a difference in their usage and effect. Some crank arms are made from aluminum, some from steel, and others from carbon fiber.
The carbon fiber crank arm is usually the lightest in weight but is the most expensive of the family. It is most often used on expensive track or off-track racing bikes.
While the aluminum option can be weightier than the carbon fiber option, it is often used by road and mountain bike makers to achieve the needed stiffness and lightness.
When upgrading your crankset, the crank length is an essential factor. Depending on your height, a crank that fits you better makes for more comfortability.
While most cranks are between the 170mm-175mm range, you can always opt for shorter options too.
Are 165mm Cranks Better?
When in a fix between two crank lengths, it is advisable to go for the shorter length. The shorter length also means your knees are less likely to go so high while peddling, an advantage for mountain bikers too.
Because shorter cranks put less pressure on the joints, they are a good choice for people who struggle with these.
3 Crankset Upgrades to Consider
Crankset choices are quite broad, coming from different manufacturers. Therefore, knowing the best type for you can prove to be confusing and difficult. Do you pick the Shimano cranks or maybe even an Andel crankset?
Don't worry, here is a rescue mission to ensure you pick from the best three crankset options. However, be sure to confirm that the upgrade you choose compliments your bottom bracket type.
1- SHIMANO M361 Hybrid Crankset
This crankset is one of the easiest to install and dissemble. The SHIMANO M361 is also compatible with bikes that have a square bottom bracket. The package includes a chainguard, a 170mm crank arm, and three chainrings.
This is one of the best low-end Shimano MTB components leisure bikes with its chainring guard replaceable and aesthetic in its to blend with the crank shape.
2- FSA K-Force Light
This crankset brand is known for its proficiency in road bikes. The package has four different chainring options and it also consists of the 53/39, pro compact 52/36, full compact 50/34 ratio option.
The crank lengths options for this product are however limited to 170mm to 175mm.
3- SRAM Red 11 Speed Crankset
The SRAM Red crankset is has a double chainring and 165mm length option set to improve your riding experience. The shortness of the crank makes it easier to peddle. The pedal threads and spindle are of good quality and can be installed smoothly using a park tool. This crankset is fitted for a road bike.
Final Thoughts!
Now that you are much more aware of the advantages of upgrading your crankset. All you are left to do is to consider the essentials of venturing into an upgrade and the recommendable options that best suit your needs.