To have seamless rides you've got to know how to choose the right crankset because cranks come in different chainring sizes and crank arm lengths, and not all will be a good fit for your bike or the terrain you'll be riding in.
In this article, we'll be talking specifically about the 52/36 cranksets; what they are, and whether they're worth it. We'll also be discussing other crankset sizes, comparing them with 52 36.
We'll discuss the combination of 52 36 cranksets with different cassette sizes. This is to guide you in choosing a suitable crankset for your bike.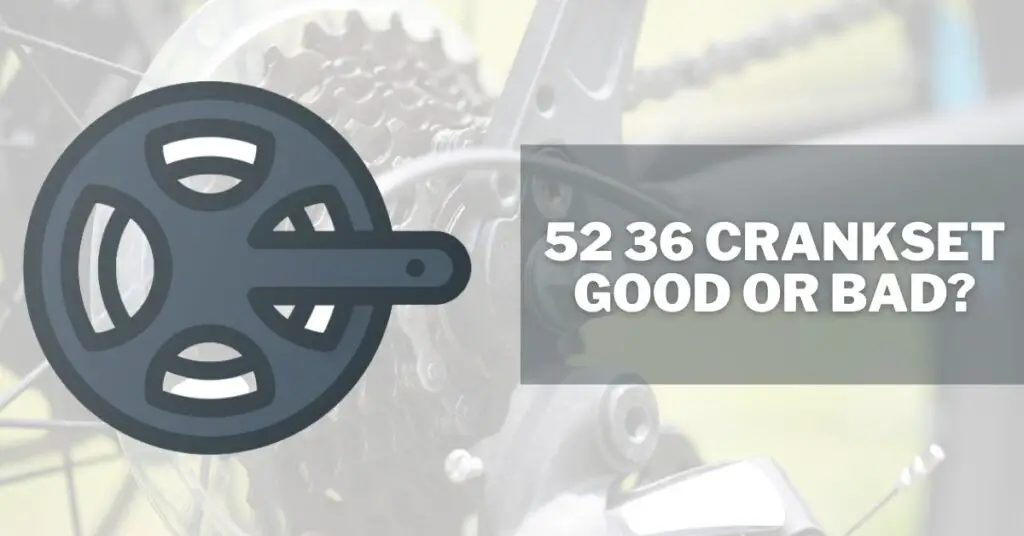 Is a 52 36 Crankset Good?
Yes, a 52 36 Crankset is worth your money. 52 36 cranksets (which are called semi-compact or mid-compact cranksets) are very good improvements to compact and standard cranksets because they make you fast and are easy to swap.
They are usually found on bikes that are designed to go fast such as road bikes and time trial bikes.
They are suitable for most types of terrain so irrespective of where you live, you can use them comfortably.
These cranks have a wide range of gears which gives you a lot of workable options. This is why they are now popular among road bikers.
What Is a 52 36 Crankset?
A 52 36 crankset is a mid-compact crankset that comprises two chainrings of different sizes. The outer chainring has 52 teeth while the inner chainring has 36 teeth.
They are the middle ground between the standard and the compact crankset. Not as big as the standard but slightly bigger than the compact and a combination of one or more of their strengths.
52 36 cranksets come in different crank arm lengths and also come in round and oval shapes. When paired with an 11 28 cassette they give you a wide range of gears that enables you to climb as well as ride fast.
A 52 36 Crank also helps you to spend more time near the middle of the cassette which gives you a better chainline during a climb.
Reasons Why 52 36 CranksetS Are Good
1- Fast
As bikers, we know that larger chainrings are used when speed is needed on flat terrains. This is one of the reasons a 52 36 crankset is much preferred. The outer chainring is bigger than that of a compact which has 50 teeth.
Although it has fewer teeth compared to a standard crankset which is 53/39, it is still preferred because it is lighter and easier to turn.
2- Easy to Swap
Changing from a semi-compact 52 36 to a compact and vice versa is cheap and easy. This is because they both come in the same bolt circle diameter.
If you want to change your bike crankset from a compact to a semi-compact, all you have to do is switch chainrings. Changing back to as compact also requires the same.
This is not the case when it comes to changing to or from a standard crankset. Standard cranksets have larger BCD so you would have to change the whole crankset.
Is a 52 36 Crankset Good for Climbing?
No, a 52 36 Crankset is not really good for climbing. To climb easily, you would have to combine your smaller/smallest chainring with your largest cog and small-sized chainrings are always best for this.
The 36t inner chainring in your 52 36 cranksets can climb but it isn't the best for this purpose. It would not climb as well as a compact crankset with 34t chainring or smaller chainrings.
Combination of 52/36 Cranks With different Cassettes
52/36 Crank With 11-28 Cassette
An 11-28 cassette gives you a wide range of gears without having too many big jumps. When combined with a 52 36 crankset, it helps in climbing fast enough.
Unlike the 12 25 cassettes, where you have to switch 4 teeth before going a gear up or down, gearing up/down on an 11 28 cassette just requires you to switch 2 teeth.
A combination of 52 36 with 11 28 can be used both on flat terrains and also for steep climbs with relatively equal shifts between cogs, which is why it is an increasing combination on new cassettes. You just have to keep your chain in a straight line and avoid cross chaining.
NOTE: Don't combine the larger chainring 52 with your largest cog 28 or the smaller chainring with your smallest cog. This will wear you and your drivetrain faster.
CAUTION: Combining a 52 36 crankset with an 11 28 cassette can however be a problem for people who like to spend time in their big gears. This is because an 11 28 cassette has a huge gap of 3 teeth between 25 and 28, so those gears are lost to the rider.
52 36 Crank & 11-34 Cassette
11-34T cassette is the cassette with the highest sprocket from Shimano. It is used for very steep hills. A combination of a 52 36 crankset with an 11-34 cassette will help you climb hills that are difficult on an 11-28.
The 34T will give you the easiest gear possible and help you spin faster while climbing.
Combining a 52 36 with an 11-34 is best for people with health issues or people who lose energy fast while climbing. This is simply because this combination makes climbing quite effortless.
DOWNSIDES
1- Using this combination will require a long chain that can accommodate the 34T sprocket, and you may experience a chain slap (chain hitting your drivetrain because of slack) while using the 36T chainring with the 34T sprocket.
This chain slap may occur because of the long chain that the cassette requires but you can fix this by using a chainstay.
2- Another downside of this combination is that your bike will become heavier because the 11-34 cassette is quite heavy. It also has big jumps between gears so you may not like it if you prefer tighter ratio cassettes.
52 36 Crank & 11-25 Cassette
11-25 cassettes are perfect for you if you ride mostly on flat terrains. The spread in the gears is tighter which makes your shifting smoother as bigger jumps between cogs call for a bad experience on flat terrains.
BENEFITS
1- Combining a 52 36 crankset with an 11-25 cassette gives you a very good speed on low gradient roads and requires minimal effort.
2- This combination is also good for people who use all their gears a lot.
3- The best thing about this combination is that you can also climb with it. Climbing very steep hills may be difficult but it is adequate for tackling small hills.
4- Many riders prefer 12-25 to 11-25 cassettes even though they lose the 11T because the 11-25 is missing a very essential cog which is the 16T.
This problem has however been solved by SRAM because their new PG – 1170 11-25 11 speed cassette now has the 16T cog. So you get to enjoy the easy 11T small sprocket as well the comfort of 16T.
What Is the Difference between 50 34 & 52 36?
There are only a few differences between the compact crankset (50 34) and the semi-compact crankset (52 36).
S.No.
Differences
1.
A 50 34 crankset is better for climbing. The smaller chainring when paired with big cogs like 28 or 32 makes climbing a lot easier and faster than with a 52 36.

The 36T is a lot harder to push and requires more energy.
2.
52 36 is faster on flat terrains. The 52T chainring when combined with small cogs like 11, will give you more speed than using a 50 34.
3.
The 50 34 compact crankset is lighter than 52 36 because it comes with smaller chainrings, shorter chains, and can also be paired with smaller cassettes.
What Is the Difference between 52 36 and 53 39?
S.No.
Differences
1.
The 52 36 crankset is an upgrade of the 53 39 and the first difference you'll notice is weight. 52 36 is lighter than 53 39 without losing the benefits of the latter.

The 53 39 is used for races because it is very fast on flat terrains but it had been discovered that the 52 36 is also fast when combined with 11 cog cassettes. So you can get speed, with a 52 36 while still keeping your bike relatively light.
2.
The difference between their larger chainrings may be small but the difference between their smaller chainrings (36 and 39) makes a big difference.

While the 53 39 isn't suitable for climbing, the 52 36 can be used to climb well when combined with suitable cassettes.
Final Thoughts!
A 52 36 crankset is preferred among bike riders because it offers the benefits of both the compact and the standard cranksets. While it is not as small as the compact, it is smaller than the standard so you can still keep your bike light while not compromising on speed.
It is not only good for speed on flat terrains, but it can also be used to climb. It can be paired with different sizes and ranges of cassettes which will make it produce different ranges of gears. So irrespective of the terrain you ride, you can use a 52 36, you just have to combine it with a suitable cassette.
We have discussed the combination of 52 36 cranksets with different cassettes and have also compared it to 50 34 and 53 39 cranksets so you can know the differences to take any decisions.
Cheers!