The fit of your cycling jersey can be the difference between a safe and comfortable ride and a risky and painful ride. The jerseys are designed to be form-fitting to keep the cyclist cool, prevent dehydration, and reduce air resistance.
However, where the jersey is too tight, it can do more damage than good. You can save the extra cost of replacing a tight jersey by making adjustments such as stretching or amending it.
Read on to find out how possible it is to stretch out your jersey, what you'd need to do, and access other tips on your cycling jersey and apparel.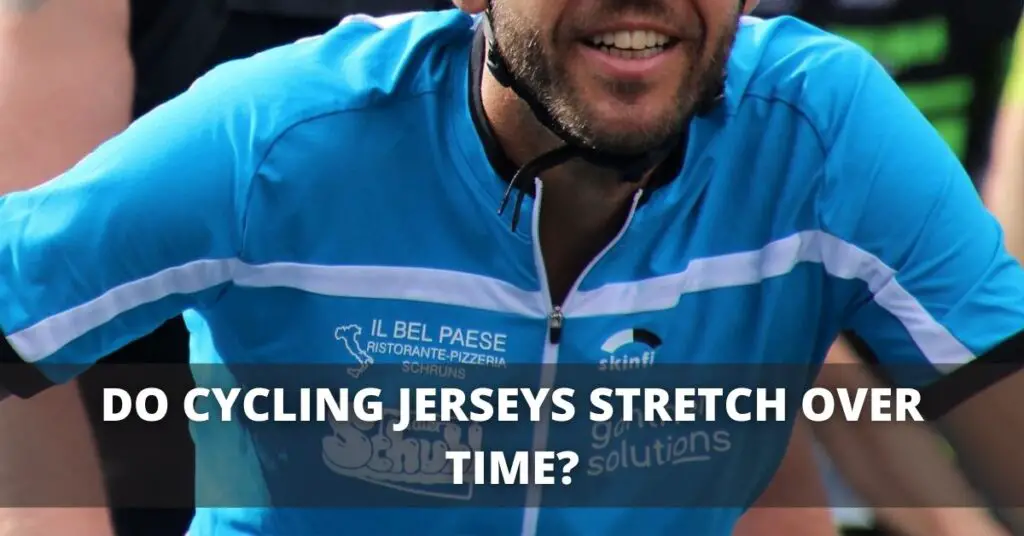 Do Cycling Jerseys Stretch over Time?
Yes, cycling jerseys do stretch over time. However, there is a limit to how much the jerseys stretch.
The amount of stretch comfortable for each person is dependent on the size picked, the material of the jersey, and the preference of the person but there is a little leverage that comes with constant use. Materials like lycra stretch easily, cotton stretches only a little, and polyester is difficult to stretch.
Let us understand more about cycling jerseys.
Are Jerseys Supposed to Be Tight or Loose?
It is important to note that when you first get a new cycling jersey, it will not be a perfect fit or immediately comfortable. Some jerseys require a bit of wear to acclimate to the body of the wearer, and some are just not the right fit at all.
However, it is important that your jersey is just the right amount of tight so that there is no loose fabric nor is your circulation strained or cut off.
There are three types of jersey cuts that cater to the preferences of each cyclist, ranging from a bit of loose space to an ultra skin-tight fit.
When choosing any of these fits, you should note that the jersey should have a snug, comfortable fit with cuffs that do not dig deep into your arm or irritate your skin. To put it in more relatable terms, your jersey should be tighter than a shirt but not as tight as a base layer.
How Do I Loosen My Cycling Jersey?
Where you have a tight jersey that you do not want to get rid of, there may still be hope by loosening and stretching it a little bit.
Here are some methods to try that may loosen up your jersey enough to give a more comfortable fit:
Method 1
Soak your jersey in water and stretch periodically by hand as it dries. You can also tie both ends to separate bars that have been secured with weights.
Method 2
A home remedy is to soak it in cold water and stretch it by wearing it on the back of a wide office chair.
A customization solution that would provide a more comfortable fit is to buy a smaller size of the same jersey. Take both jerseys to a tailor and request that they add material from the smaller jersey to the sides of the larger jersey.
This will combine the two jerseys and increase the size while still preserving the original design of the first jersey.
Types of Cycling Jersey Fit
There are different fits according to the brand of jersey the cyclist chooses. It is generally recommendable that you take careful measurements when buying online or try the kit on physically.
These are the three categories of jersey fits that are generally used by most jersey brands, so select a jersey within the cut most suitable for your use:
1- Club Cut
This is the looser and most relaxed of the jersey fits. It usually doesn't have silicone grippers at the waist or sleeves and is usually fitted with a three-quarter zipper.
This fit is more suitable for casual cyclists who are not into high-performance riding and cyclists who are not used to the feel of spandex.
2- Race Cut
This cut has a slim fit and a little bit of breathing space. Its athletic form-fitting style, mock necks, waist, and sleeve grippers are preferred by most cyclists because they are a somewhat flexible fit that can be used for casual and semi-high performance cycling.
3- Pro/Aero Cut
This is perfect for cyclists who like a very tight jersey fit. They are made to be worn like a second skin and fit very slim on the chest and waist and have narrow sleeves.
These have no space or looseness and are often short-waisted with seamless cuffs that stick to your skin.
Importance Of Comfortable And Fitted Jerseys
Jerseys are designed to be the way they are for several reasons and where they do not fit properly or do not provide adequate comfort to the cyclist, it can lead to injuries and increase the risk of accidents.
Here are three very important reasons why it is important to have comfortable, fitted jerseys:
1- Fitted jerseys make effective use of their wicking material to wick sweat away from the skin of the cyclist.
This is very important as it facilitates evaporation that keeps the rider cool and prevents dehydration (which can be deadly to a cyclist).
2- A form fitting jersey that the cyclist is comfortable in helps to reduce air resistance. The faster a cyclist rides, the greater the proportion of energy being expended to overcome air resistance.
Where the jersey is not fitted, air resistance will increase and this will make it harder to cycle smoothly.
3- A comfortably fitted jersey will protect the cyclist against chafing and rashes. Where there are air pockets or too tight spots, the cyclist risks eventually having chafed, painful skin that will make cycling very uncomfortable.
How Do I Choose a Cycling Jersey?
When you have chosen a preferable jersey cut, you must then consider the fit of your jersey per your preference and body measurement and technical features that you may wish to add to your jersey.
Here is a breakdown of these two factors:
A- JERSEY FIT
1- Chest Fit
Generally, this should have a snug fit on your body, not be too difficult to wear/remove, and not be too restrictive of your breathing and movement.
2- Sleeve Fit
Jersey sleeves should allow easy arm movement but not be too loose to allow chafing or air pockets.
3- Waist Fit
The stomach/waist fit of your jersey should be tight enough to not roll up, restrict breathing or motion. It should also protect against chafing and allow easy motion and comfort when riding.
B- TECHNICAL FEATURES
1- Silicone Grippers
It is preferable that your jersey has silicone grippers at the sleeves and hemline to prevent it from riding up or bunching up uncomfortably.
The sleeves may also have a laser-cut style to provide aero advantage by sticking like a second skin.
2- Colors
Your jersey should be in bright colors and patterns that will help you stand out when riding. This makes it easy to spot you if you need help or by car so that the risk of hits and accidents is reduced.
3- Zips
A full-length zip in your jersey will allow you to easily zip down to wear, remove or just cool down after a hot or long day of cycling.
A zipped pocket will also give you space to protect valuables when riding and in the scenario of an accident.
4- Wind-&-Water Resistance
Breathable jersey fabrics that are resistant to wind and water are very helpful against bad weather and aid in ventilation, especially where the jersey has panels of thinner fabric at specific places.
5- Flatlock Seams
The use of seams that lay flat in cycling jerseys will help to protect against and minimize chafing.
6- SPF Protection Material
There are modern jersey fabrics that come with inbuilt SPF protection against heat waves and sun rays. This can provide a more comfortable ride on hot and sunny days.
Can You Wear a Shirt under a Cycling Jersey?
Wearing an undershirt beneath a cycling jersey is recommended for cycling in cold or windy conditions, especially where it is made of a wicking material. Bras made of wicking material are only okay to be worn underneath.
There are several benefits to wearing an extra layer beneath and some include:
1- It can serve as an additional layer to wick moisture away from your body.
2- It can help to maintain body temperature in cold and windy weather
3- It helps when pavement surfing as the outer jersey will slide against the undershirt and protect against road rash or bruises.
4- It helps cyclists who do not like the direct feel of the jersey material against their skin.
Final Thoughts!
As you now understand, there are many things that go into selecting the jersey with the best fit for your needs and preference as a cyclist but most important of all is that the jersey you select and buy is not too tight or loose on you.
And in a scenario where you do end up with a tight-fitting jersey, you have our home solution guide on how to stretch it into a more comfortable fit.
Cheers!