You can go anywhere and you'll riders of all ages, from kids with training wheels to advanced riders on the road or on trails. They are all kitted out on beautiful slick bikes and it seems like it is a very accepting community.
But, if you are a heavier rider it can be a daunting prospect to get started. What bike do you choose? What features do you need to consider? Will the bike perform the way it is supposed to?
We're going to discuss if fat tire bikes are better for heavier people and also outline some key points that you need to consider if you are overweight and are thinking about taking up cycling (especially on Fat Tire Bikes).
Hopefully, it will make your journey easier and get you having fun sooner.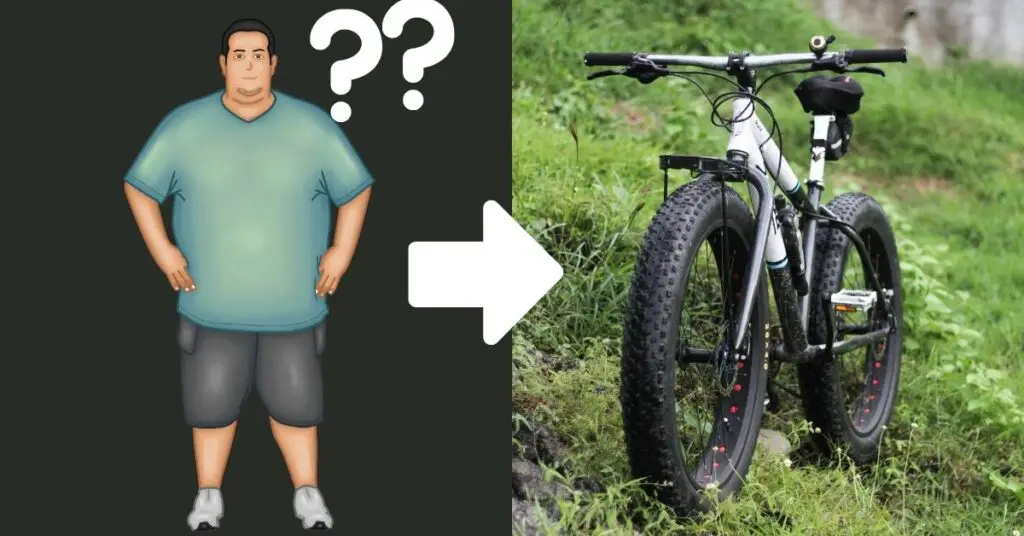 Are Fat Tire Bikes Better for Heavy Riders?
The short answer is yes! Fat tire bikes tend to be stronger and are designed to hold extra weight, so they are usually a good start for overweight riders.
But it's always worth considering what you want to do on your bike. Are you aiming to lose weight and exercise, are you commuting to work daily, or are you going to be blazing trails off-road?
There are plenty of bikes that are appropriate for heavier riders and each has its own pros and cons.
3 Reasons Why Fat Bikes are Good for Heavier Riders
1- Fat Bike tires are, as the name suggests, fatter and are better at dispersing the weight of a rider over a larger surface area. This makes it easier to ride over rugged terrain or softer surfaces like mud and sand.
Fat bikes were traditionally designed for snow and sand, and like off-road driving, the tires usually have a lower PSI than road and mountain bikes.
2- The other advantage to this is that they "absorb" bombs in the terrain better, making it a smoother ride.
3- A Fat bike may be a heavier bike compared to most, but the good news here is that it is stronger too. As an overweight rider, you don't have to fret over the grammar of individual components.
If you would like to shave some weight, the easiest way is to just keep riding and lose it around the waist instead of the bike.
How Much Weight Can a Fat Tire Bike Hold?
Generally speaking, most fat tire bikes can take up to around 300lbs.
It's always worth doing your due diligence when buying a bike though. Check the manufactures specs, especially the recommended weight limit on a specific model.
What if You go Overboard?
While a few extra pounds shouldn't be an issue, if you are over the weight limit you will, at best, risk losing your warranty, and in the worst-case scenario, risk a malfunction while riding which could leave you with a serious injury.
I can assure you that there is a bike out there for you and your weight, so take the time to find it and always stay safe!
Fat Tire Bike Vs. Other Bikes (Comparison)
Fat tire bikes aren't the only option out there for heavier riders. Some other options would be appropriate with many manufacturers making models geared towards heavier riders. But as always you need to decide what you are looking to get out of your bicycle and also how you will be using it.
We've put together a quick comparison for you to look at, but remember exact specs will vary between manufacturers and models, so be sure to check their spec sheets out before investing in your bike.
| | | | | | | |
| --- | --- | --- | --- | --- | --- | --- |
| Bike Type | Weight Limit (lbs) | Terrain | Riding Position | Suspension | Avg. Weight (lbs) | Frame |
| Fat Tire Bike | 300 | All-Terrain | Upright | No | 35 | Aluminum or carbon fiber |
| Mountain Bike | 275 | All-Terrain | Upright | Yes | 25 | Chromoly, aluminum, titanium &, carbon |
| Road Bike | 220 | Roads & Paving | Compact | No | 17 | Steel, aluminum, titanium, & carbon fiber |
| E-Bike | 250 | All-Terrain | Upright | Yes | 45 | Aluminum alloy |
| Commuter Bike | 220 | Roads & Paving | Upright | No | 44 | Carbon fiber, aluminum, or steel |
| Gravel Bike | 275 | All-Terrain | Upright | Yes | 25 | Steel, aluminum, titanium, & carbon fiber |
| Touring Bike | 250 | Roads & Paving | Compact | No | 29 | Steel, aluminum, & titanium |
| Hybrid Bike | 275 | Paved/Unpaved | Upright | Yes | 29 | Aluminum alloy |
Are Fat Bikes Harder to Ride?
These bikes were intended to be used on rough surfaces initially, terrains such as sand, snow, and rocks. They have a wider tread which provides additional grip on these surfaces which will make it easier on these surfaces.
Tires usually have a lower air pressure though, this will mean that peddling will require a bit more effort.
If you are planning on using your fat tire bike on paved surfaces, there are a few small adjustments you can make to make your life easier.
Filling the tires with a little more air, and choosing a tire with a slicker tread will mean you are putting less effort into peddling.
Can a 300-Pound Person Ride a Bike?
There is a bike out there for all riders. And being 300lbs is not a barrier. Mongoose Manus, for example, is designed with a weight limit of 350lbs and some manufacturers produce stock bikes that can support up to 400lbs.
There are plenty of options out there, from mountain bikes to fat-tire bikes and more.
While your local bike shop may not have stock in store, they will be more than happy to help you source them so you should be able to get your hands on them relatively easily.
What Is the Best Bike for an Obese Person?
I wouldn't be surprised if there were a number of potential cyclists out there who haven't gotten on a bike because they thought that they weren't able to get one for their body size. Or even worse, those who tried the wrong bike and gave up because it wasn't fun or comfortable.
Most bikes in shop windows or on the internet are aimed at the average body shape. They are sleek and beautiful, made of lightweight components, and usually pricey. But I can assure you that there is an ideal bike for your body shape out there.
One of the things to consider is the riding position, road bikes have you hunched over which can be very uncomfortable. And let's be honest, it doesn't leave room for a belly if you have one.
Below are a couple of suggestions on bikes that are designed for heavier riders.
1- Mongoose Dolomite
Mongoose was once a premium manufacturer and they are pushing to get back to that level. This fat tire mountain bike has oversized tires and rims – this means that it will handle the extra weight with ease.
It also has a steel frame and fork which will not only handle rugged terrain but will also limit the wear and tear associated with the additional weight. The bike also has a disk brake system as standard.
I'd look at a few alterations to maximize comfort though. You may want to change the seat to suit your preferences and look at raising the handlebars.
2- Framed Minnesota
Framed is a relatively new manufacturer but has shown to be a quality option that is serviceable and sturdy.
It has an aluminum alloy frame and fork and mechanical disc brakes and when compared to the Mongoose Dolomite it has some impressive upgrades and is slightly more expensive.
But it does come in different grades and price points.
3- Mongoose Malus
It has a steel frame, mechanical disk brakes, and alloy rims and was designed specifically for the larger rider. Again though, I'd look at changing the seat out to ensure you are comfortable while riding.
What to Consider When Choosing a Bike for Heavier Persons?
I mentioned previously that individual components aren't as important, but there are a few things to consider when choosing the right bike for an overweight rider.
1- Wheels
Wheels with a higher spoke count, for example, will mean a more stable ride. Normally there are 24 spokes on a wheel, but going for 32 or 36 counts will add peace of mind to your ride.
2- Rims
You should also think about how wide and deep the rims are. Generally, they are 24mm but upping this to 28mm will be just that bit stronger.
3- Frame Material
Frame material could be important too. Going for an aluminum alloy will give you a stronger bike, and will save some money too.
I'd also suggest looking at the material the fork is made of. A lot of bikes may have a carbon fork and steerer and while the fork may not present a problem the steerer might. Try and get one that is made of stronger materials – although this is less common in fat-tire bikes and mountain bikes.
4- Brakes
Gravity and inertia mean heavier riders will take longer to stop and so having a decent braking system is worthwhile. I prefer disk brakes to rim brakes as they don't cause any wear and tear on the rims.
Final Thoughts!
Being overweight doesn't need to be a barrier to the sport, cycling can offer you the opportunity to lose and increase fitness while not putting undue strain on your ankles and knees.
Fat tire bikes offer a versatile entry into the world of cycling. They are durable and more importantly, fun to ride, and at the end of the day, that is all that matters.
So get out there and start your cycling adventure.
Cheers!