It is undeniable that cycling can take a toll on your body; it can cause sore muscles, chafing, etc. The best way to avoid these is to ensure that your bike is well suited to your body's needs and is as comfortable as possible.
A key thing in ensuring your comfort is the bike seat. All bicycles have built-in saddles, but if the saddle is causing you discomfort, you can always try changing the position or the cover padding.
Different types of covers are made from different materials, such as leather, memory foam, and gel. This article analyzes gel bike seats and compares them to other types of seats.
What Is a Gel Bike Seat?
Gel bike seats are typically structured bike seats that incorporate a polymer gel into their seat pads or covers.
The inclusion of gel is designed to provide extra cushion to your body and relieve the pressure points on your upper thighs.
Bike seats with gel padding usually have a good balance between vibration absorption and pedaling friction.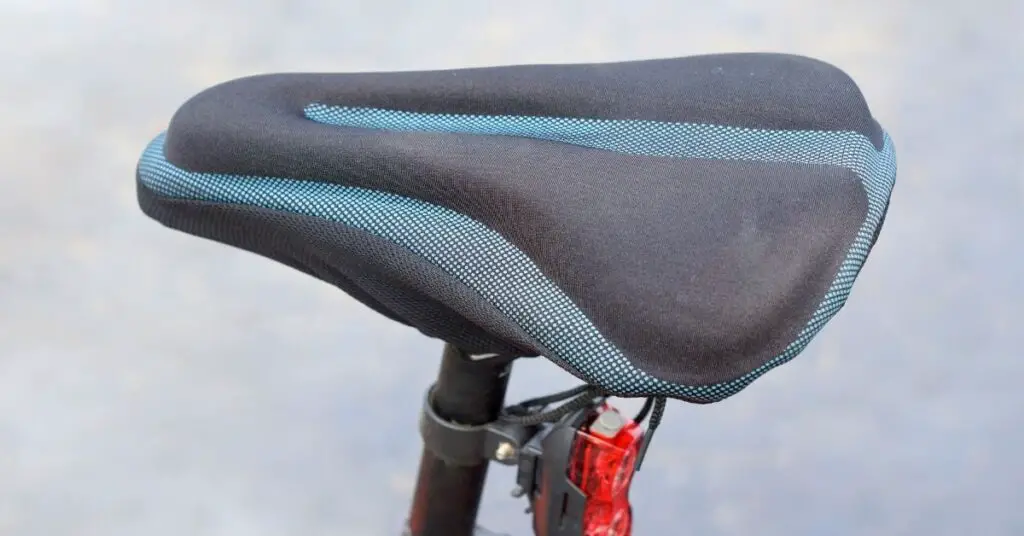 Are Gel Bike Seats Any Good?
So why should you use a gel bike seat for your bike? What do they have to offer that other seats don't? Here are five reasons why they are suitable for your bicycle and five challenges that they have. Then you can decide whether to try them or not.
5 Reasons Why Gel Bike Seats Are Good
Gel bike seats absorb a lot of vibration from the bike movement. This is especially useful when riding on rough and rocky roads. It offers more protection and cushion to your back and bottom from shock and vibration.
1- According to many cyclists, gel bike seats have a softer and more comfortable feel than other seats. This means it provides a more natural and relaxed seat feel, which is very important for comfort.
2- Gel seats will mould to the shape and form that the rider usually sits in, so they maintain that feeling of comfort even after regular use.
3- Gel bike seats are perfect for recreational cyclists, as it provides plush and maximum comfort for these casual purposes. The reduced discomfort also helps to enhance your cycling experience and improve the positive effect on your body.
4- A gel bike seat reduces friction and offers additional protection from sores and chafing from constant leg movement during cycling.
5 Challenges With Gel Bike Seats
1- The polymer gel pads can make the seat heavier, which adds to the bike's weight and can be an issue if you use your bike for long-distance rides or travel.
2- The gel seats tend to take in heat, which can be a problem in hot weather and long rides.
3- They are expensive to buy and install into your bike saddle, and this is important because they are more effective when integrated into the saddle rather than attached to it.
4- Gel bike seats are great introductory saddles for new cyclists, as the comfortable feeling is a great seat to introduce their body to the rigour of regular cycling.
5- Gel seats are less firm, so they are not very supportive for professional cyclists used to stiffer saddles, such as those on road bikes and cyclists over 200lbs.
How Long Do Gel Saddles Last?
One key downside to gel bike seats that we did not mention above is the fact that they usually do not stand the test of time.
They are not recommended for cyclists who use their bikes on regular long rides or do professional cycling because the polymer gel will get displaced with time and frequent use.
These seats also wear down faster than other types of bike seats and will start to condense and displace in the bike seat after regular use.
Some cyclists had also said that their gel bike saddles lasted them about 3000 to 4500 miles before they began to deteriorate and displace, so really, it varies from seat to seat, and cyclist to cyclist.
Gel Bike Seats vs Padded Shorts
Another common option for gel bike seats is padded shorts that cyclists can wear on any saddle. It replaces the need for a saddle change or a gel, leather, or memory foam cover. It is also very useful for providing and maintaining saddle comfort. So which should you pick between the two?
Well, here is a comparison table of the two to help you decide:
Gel Bike Seats
Padded Shorts
Pros
● It is perfect for casual and recreational riding
● Are excellent shock and vibration absorbers
● Offer support and cushion to your back and bottom
● Mould to comfortable sitting positions that provide a natural and relaxed feel
● Have more protection against chafing and soreness
● Protect against moisture and accumulation of heat
● Have the benefit of serving as cycling wear and cushion for the saddle
● Are easy to clean and maintain
Cons
● Will lose efficiency and comfort after regular use for long rides
● Tend to hold in heat and cause moisture during hot weather, such as summer
● Covers are expensive to purchase as well as installation into a bike seat
● They are perfect for long term use as the padding is sewn into the shorts
● Users usually have to buy multiple pairs to prevent wearing out
● Require cleaning after every use
Gel Bicycle Seats vs Memory Foam
Another popular type of bike seat is the memory foam seat. Memory foam is a squishy and temperature-sensitive type of open-cell foam that compresses to fit the shape of your body and returns to its original form when you move.
It's also a great way of improving the comfort of a bike saddle.
Here is a comparison of the two:
Gel Bike Seats
Memory Foam
Pros
● These do not entirely protect from chafing, especially as they tend to displace in the seat after regular use
● Are perfect for new cyclists who need comfortable saddles
● They provide a comfortable and relaxed feel while riding
● It is a preferred saddle cover for professional riders and cyclists who take long rides
● They can be used by bigger cyclists for casual rides and long, professional cycling
● They have a long lifespan and provide maximum support
Cons
● Efficiency is limited to use by casual and recreational riders
● Have a short lifespan, and the gel begins to displace as they wear out.
● They are not comfortable when first used and require time to be adjusted into
● They are expensive to purchase and maintain
Things to Consider When Choosing a Gel Bike Seat
1- The Type of Riding You'll be Doing
Like we said earlier, gel bike seats are not recommended for use on regular long rides. So you should consider whether you'll be using your bike for casual, recreational cycling or long, professional purposes. This will determine whether a gel seat would suit your needs or if you need another type of seat.
2- Best Fit for Your Body
With the variety in bikes also comes the variety in saddles. There are different shapes and sizes of saddles, and this can depend on the type of bike you use or the customization of the saddle to fit your body.
When choosing a new saddle or gel cover, you should ensure it is the right fit and measurement for you and your bike.
3- Your Budget
Gel bike seats and covers are usually expensive. However, you can get a relatively affordable gel seat, depending on your budget. So have a certain amount that you can spend and look for a good gel seat within that range.
4- Adjustability
Your gel seat should fit snugly on your saddle and not give room for any movement during cycling. Some features ensure this, such as sticky flaps to secure, drawstrings, straps, etc. These also make it easy to adjust the gel seat if it is slipping or in an uncomfortable position.
5- Features & warranty
Some gel bike seats have premium features such as double layers of gel, wear-resistant cover fabric, anti-slip particles, breathable net to push out the heat, etc. The warranty is also essential to consider to have adequate coverage for any issues that come up with the gel seat.
When Should You Change Your Gel Bike Saddle?
Usually, the gel and foam on a bike seat generally begin to deteriorate after about a year of regular use. Although the idea of regular use is relative to the cyclist and purpose, this is the general amount of time that a gel and foam has before it can begin to have issues.
This means that you should regularly check your bike seat. Once you notice an increase in discomfort or that it has begun to visibly wear out, then you are due for a change.
Don't try to stick it out for longer than necessary because you'll just be putting yourself and your bike at risk.
Change the saddle immediately. Many manufacturers also recommend that you change your bike saddle every two to three years to keep your bike performing at maximum efficiency.
Final Thoughts!
In conclusion, you should ensure you have a saddle that provides maximum comfort for you. Whether this is a gel seat, memory foam, leather, or padded shorts, your comfort and functionality matter. Many cyclists prefer one to the other, but everyone is different, and what works for one cyclist may not work for you.
You should also know that as you cycle regularly and your body adjusts to the seat and the bicycle, your saddle preferences may change, so it is very okay to try out new types of seats when this happens.
Cheers!