As the weather warms up, many cycling enthusiasts look forward to hitting the open road for a ride. However, before embarking on a cycling adventure, it is essential to think carefully about what to wear. Road cycling is an intensive sport that requires high levels of fitness, but it is also essential to have the right gear in order to stay comfortable and safe throughout your ride.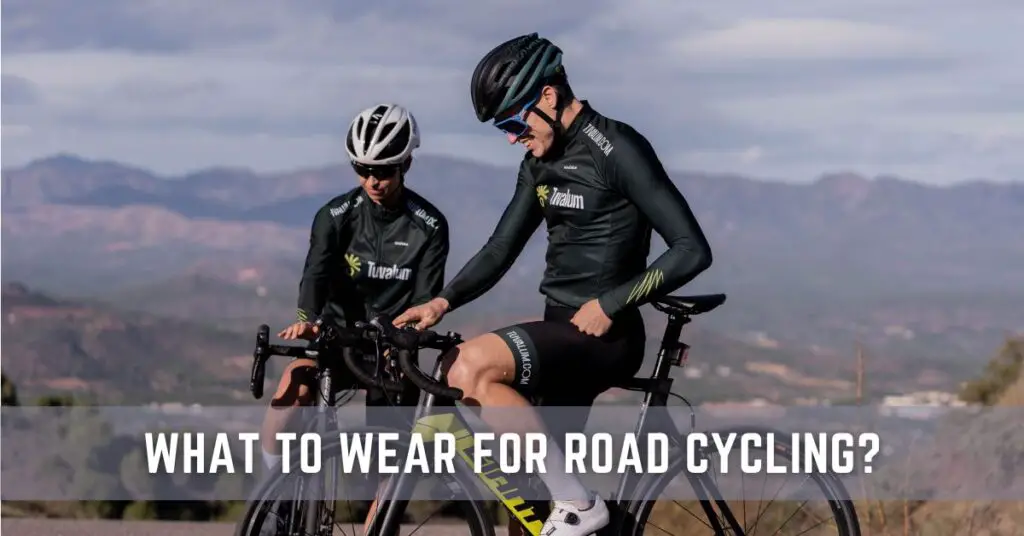 What to Wear for Road Cycling?
Importance of Proper Cycling Clothing
Wearing a cotton t-shirt under a waterproof jacket while climbing a steep hill is not an ideal combination for road cycling.
Investing in cycling-specific clothing will not only make you more comfortable, but it will also improve your performance, protect you from the elements, and increase your safety.
From cycling shorts with built-in chamois to breathable jerseys and waterproof jackets, each piece of clothing serves a specific purpose.
And when these pieces are layered correctly, you can stay warm, dry, and comfortable no matter the weather conditions.
So don't underestimate the importance of proper cycling clothing – it could make all the difference in your riding experience.
Clothing for Different Weather Conditions
When it comes to road cycling, one of the most crucial factors to consider is the weather. Depending on the temperature and conditions, you'll want to wear different types of clothing to ensure optimal comfort and performance.
• In cooler temperatures, layering is key to keeping your body at a good temperature. This means wearing good thermals and adding thicker layers like a windbreaker or lined cycling jacket if it's especially cold or windy.
• For rainy or snowy days, it's important to switch out for waterproof gear and thicker gloves to keep your hands warm and dry.
• On warmer days, stick with lightweight and breathable fabrics that wick away sweat and prevent overheating.
Whatever the weather, choosing the right clothing can make all the difference in how enjoyable and successful your ride is.
Layering for Optimal Comfort & Performance
By layering properly, you can adjust your clothing to suit different weather conditions and ride with confidence and ease.
A base layer is important for wicking away sweat and keeping your skin dry.
Building on that layer, mid-layers provide insulation and breathability to keep you warm without overheating. For colder days, heavier mid-layers are necessary, while lighter ones are great for more leisurely rides.
An outer layer, such as a waterproof or heavyweight cycling jacket, completes the layering process, providing protection from the wind and rain.
Benefits of a Base Layer
The base layer is the first layer of clothing you wear against your skin and can help regulate your body temperature.
Synthetic fabrics are the way to go for base layers, as they can wick away moisture and keep you dry during intense rides.
The fit of the base layer is also crucial – it should be skin tight to prevent any discomfort from chafing.
Additionally, base layers can provide an added layer of protection against road rash.
Lightweight & Breathable Fabrics
Lightweight and breathable materials like Lycra, spandex, polyester, and mesh panels are a top choice for summer cycling. These fabrics help reduce sweat and allow for greater air circulation, keeping you cool and dry during intense rides.
For colder weather, gilets and vests made from wind-resistant materials can be added as a layer to protect against the chill.
Additionally, a waterproof cycling jacket can help you stay dry during rainy days.
Gilets and Vests for Wind Protection
The best part about gilets and vests is that they're small and packable, making them easy to carry around while you're on the move. This makes them the perfect choice for riders who might start their ride in chilly weather but will warm up as they pedal.
Additionally, gilets and vests can be layered over long sleeve tops or jerseys to provide added protection against the wind.
Pair them with lightweight and breathable fabrics, and you've got a winning combination that will keep you comfortable and performing at your best no matter the weather.
In fact, riders should consider wearing wind vests with integrated membranes on especially windy days for optimal protection.
And when the weather takes a turn for the worse, waterproof cycling jackets are an absolute must-have to keep you dry and protected against the elements.
Waterproof Cycling Jackets for Rainy Days
Don't let a little rain dampen your cycling spirit – invest in a quality waterproof jacket to tackle any weather conditions.
Luckily, there are plenty of options available on the market to keep you dry and comfortable during soggy rides. It's also important to look for jackets with proper water-resistant technology.
One-piece suits are great for commuting, while two-piece options allow for more versatility. It's also worth considering gilets and vests for added wind protection on top of your jacket.
Choosing the Right Cycling Jersey
Lightweight, short-sleeve jerseys with mesh panels are ideal for summer cycling, while heavier, long-sleeve jerseys and jackets are necessary for colder temperatures.
It's important to consider fabric breathability and wind protection when choosing a jersey, as well as the fit and sizing.
Unfortunately, there is no standard sizing for cycling jerseys, so it's best to use a flexible tape and measure yourself to ensure a proper fit.
Warmer Cycling Shorts and Accessories
When the weather turns cooler, it's important to have the proper cycling shorts and accessories to stay warm and comfortable on the road.
Leg warmers can be a great addition to your cycling kit, as they can be easily packed in your jersey pocket in case the temperature drops.
There are also a variety of cycling padded shorts available, with gel padding being the preferred option for many riders due to its superior comfort. For additional warmth, riders can layer up with a long-sleeved cycling jersey and a lined cycling jacket.
Thin full-fingered gloves and wool socks can also help keep hands and feet toasty on colder rides.
Safety & Protection with a Bike Helmet
The single most important piece of safety gear a cyclist can wear is a helmet.
It is essential for preventing head injuries and protecting the brain. Helmets have been shown to significantly reduce head and brain injuries in the event of a fall or collision.
It is important to remember to always wear your helmet properly, ensuring that it covers your forehead and is fastened securely.
Though helmets can protect against specific head injuries, they are not a substitute for safer streets and more mindful drivers.
In addition to the helmet, it is recommended to wear other safety gear such as elbow pads, knee pads, and wrist guards made of tough and durable PP, PE materials.
Always prioritize safety in your road cycling outfit.
References
https://road.cc/content/buyers-guide/cycling-clothing-guide-5-ways-proper-kit-boosts-your-riding-172431
https://www.rei.com/learn/expert-advice/bike-clothing.html
https://www.eriksbikeshop.com/blog/post/why-use-cycling-specific-clothing
https://velosock.com/blogs/blog/reasons-why-proper-cycling-clothes-are-necessary
https://mvmnt.club/blogs/news/exploring-the-function-and-importance-of-the-cycling-jersey-the-essential-piece-of-gear-for-any-cyclist
https://www.liv-cycling.com/global/campaigns/how-to-layer-up-for-chilly-bike-rides/19479
https://www.owayo.com/cycling-vests_with_ventilation-us.htm
https://health.clevelandclinic.org/bicycle-helmet-safety/
https://www.nhtsa.gov/people/injury/pedbimot/bike/kidsandbikesafetyweb/index.htm