Believe it or not, choosing the perfect road cycling shoe size can make or break your ride. Do you remember that time when you accidentally wore your winter boots on a summer ride? Well, that's how it feels when your cycling shoes don't fit right. But don't worry, we've got you covered by answering the question "How should road cycling shoes fit?"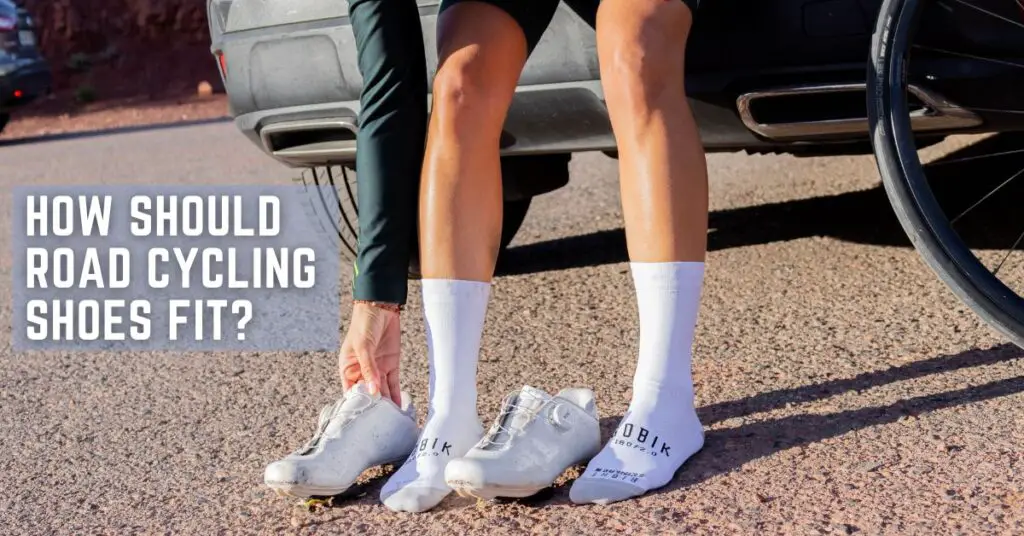 How Should Road Cycling Shoes Fit?
One of the most important aspects of road cycling shoes is the fit, and a snug fit is paramount. The shoe should be tight in the heel, but not too tight to cause discomfort or pinching.
The instep should also have even pressure. While it's important to avoid toe pressure and ensure that the shoes are the appropriate length, it's equally important to have a supportive fit throughout the entire foot.
This is where a snug fit comes in. The optimal cycling shoe will offer a close, secure fit without causing any undue pressure or pinching. This way, the foot is fully supported, which is essential for comfortable and efficient cycling.
While it may be tempting to opt for a roomy shoe, remember that cycling shoes are designed to fit tightly.
Snugness is key, but there should also be enough space for comfort without allowing the foot to move around unnecessarily.
By measuring from the big toe and preventing any extra movement, cyclists can ensure the optimal fit for their road cycling shoes.
Avoiding Toe Pressure
One common concern for cyclists is avoiding toe pressure, as the stiff soles of cycling shoes can make it easy for toes to feel cramped or pinched.
However, it's important to note that some pressure on the toes is acceptable, as it helps to ensure a snug, secure fit that ultimately promotes better power transfer.
Choosing the Right Shoe Length
When it comes to choosing the right length for cycling shoes, a few millimeters can make all the difference. It's essential to measure your foot length from the heel to toe and then find a chart that matches your preferred brand.
Remember, bike shoes tend to be true to size, so it's best to stick to your regular shoe size.
However, if you typically fall between sizes, it's suggested to go a little larger in length, around 3-5mm. That way, your toes will have enough space to avoid pressure while being able to prevent unnecessary movement during a ride.
Always make sure there is a snug fit around the heel with no slippage, and avoid buying overly tight shoes with the expectation that they will stretch.
A well-fitting cycling shoe should be comfortable, yet firm, with enough room for your feet to remain stable while cycling.
Optimal Cycling Shoe Fit in the Heel Area
The ideal cycling shoe should allow for even pressure on the instep without pressing against the end of the shoe.
It should also provide a firm grip on the heel to prevent slipping when walking. While sizing up is recommended for those between sizes, the shoe should still wrap snugly around the foot similar to running or walking shoes.
The cleat should be positioned at the widest points of the foot for maximum support, and comfort is also an important factor to consider when evaluating the overall fit of the shoe.
By finding a cycling shoe that fits snugly and comfortably in the heel area, cyclists can enjoy a more efficient and enjoyable riding experience.
Similarities Between Cycling and Running/Walking Shoes
While cycling and running/walking shoes have some fundamental differences, there are some similarities to consider when searching for the right fit.
Both types of shoes should provide ample support for the arch and heel areas, ensuring comfort and preventing any unnecessary movements.
When looking at the fit, it's important to note that they should be snug enough to prevent slippage but with enough space for comfort without movement.
The correct shoe length is necessary for both cycling and running/walking shoes, although the measurement process may differ slightly.
So, while they may resemble running/walking shoes in some regards, it's imperative to select a pair that will optimize the cycling experience.
Going with Your Everyday Shoe Size
One helpful tip for buying the right cycling shoes is to simply go with your everyday shoe size, as most cycling shoes run true to size.
However, if you're normally between sizes, it's suggested to size up. It's important to remember that bike shoes are intended to wrap snugly around the foot for optimal stability and power transfer.
Once you've found the right size, make sure the shoe length is a few millimeters larger than your foot length, with about 1.5 cm of toe room. This allows for slight movement without causing any discomfort during long rides.
It's important to remember that your feet won't be doing any rolling movement, so a few millimeters of space from the big toe is enough to keep you comfortable
Additionally, make sure the fit in the heel area is snug for the most comfortable ride possible.
By taking these factors into account, you can ensure a comfortable and efficient cycling experience every time you hit the road.
References
https://fitwerx.com/cycling-shoe-fit-how-should-a-well-fit-shoe-feel-and-other-considerations/
https://www.bespokecycling.com/blog/the-importance-of-correct-fit-for-cycling-shoes
https://www.cyclistshub.com/how-should-cycling-shoes-fit/
https://hincapie.com/ride-with-us/stories-from-the-saddle/cycling-shoe-size-fit-style-guide/
https://ride.shimano.com/blogs/blogs-and-news/how-should-your-bike-shoes-fit
https://gearbikesreview.com/cycling-shoes-fitting-guide/
https://www.livestrong.com/article/420952-how-to-fit-cycling-shoes-properly/
https://chainsmith.com.au/blogs/tech-talks/shoe-size-fitting-for-your-riding-performance
https://www.bikeradar.com/features/does-cycling-shoe-stiffness-actually-matter/