Cycling enthusiasts often invest a lot of money into their gear, including specially designed shoes for road cycling. But what happens when they want to switch things up and try out a spinning class at their local gym? Can road cycling shoes be used for spinning? This is a common question that many cyclists ask themselves before taking on an indoor cycling session.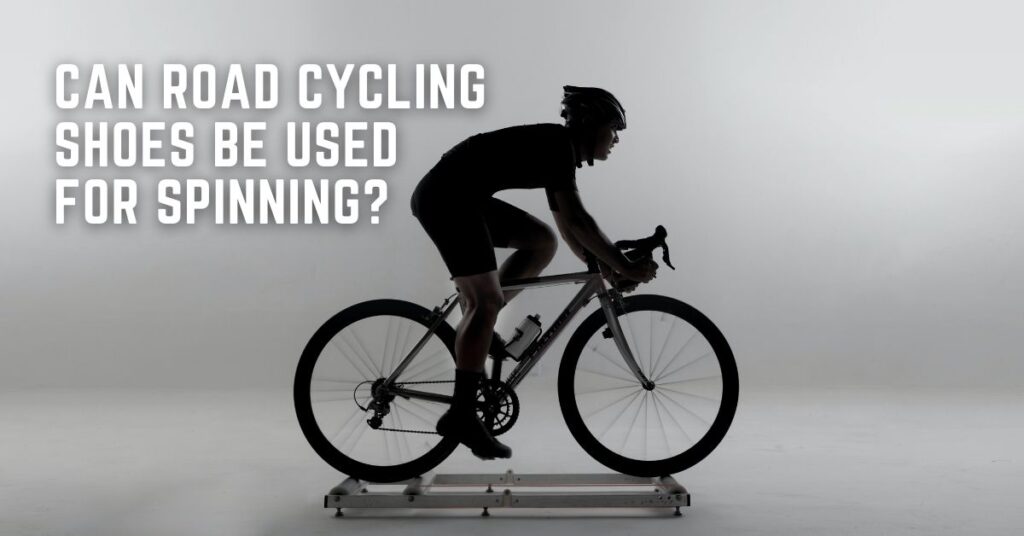 Can Road Cycling Shoes Be Used for Spinning?
While road cycling shoes may be compatible with indoor cycling workouts, spinning shoes are specifically optimized for high-intensity, hot and sweaty classes.
The design of spinning shoes caters to the indoor cycling experience, providing ample support for the feet, as opposed to road cycling shoes that focus more on aerodynamics and durability for outdoor use.
Unlike road cycling shoes, spinning shoes come equipped with a specialized cleat, designed to clip into indoor cycling bike pedals, providing a secure and stable connection to the bike.
So, while it is possible to wear road cycling shoes for indoor cycling classes, spinning shoes offer better comfort and overall performance, allowing riders to max out on their workouts, free from discomfort or distractions.
Spin Shoes Have a Special Clip to Attach to Indoor Cycling Bike Pedals
One essential piece of equipment for spin classes is a pair of spin shoes.
These specialized shoes have a unique clip on the bottom that allows them to attach securely to indoor cycling bike pedals.
This clip, combined with SPD or Delta cleats, provides a locked-in feel that can help you maintain proper form and maximize the efficiency of your workout.
While road cycling shoes may be compatible with indoor cycling pedals, they are not optimized for the unique demands of spin classes.
Spinning Shoes May Be Heavier than Outdoor Road Biking Shoes
While indoor cycling shoes may be heavier than outdoor road biking shoes, they are designed specifically for the unique needs of indoor spinning workouts.
Spinning shoes are optimized for hot, sweaty workouts in a stationary environment, which requires different features from road biking shoes.
In contrast, outdoor road biking shoes may be lighter as they are built to cater to the demands of outdoor terrains that require more flexibility and breathability.
It's worth noting that different types of cycling shoes can be utilized for indoor cycling bikes, whether technically it's a road, mountain, or cross shoe.
But for a more powerful and efficient workout, it is recommended to use specialized indoor cycling shoes with an SPD clipless pedal system.
SPD Clipless Pedals Work with Spinner Bikes in Spin Classes
If you're planning to attend a spin class using a Spinner bike, you'll be happy to know that SPD clipless pedals are compatible with these bikes.
This means that you have the option to wear shoes with SPD-compatible cleats and easily clip into the pedals for a more efficient workout.
While some bikes may come equipped with Delta-compatible pedals, it's easy to switch them out for SPD pedals if that's your preferred choice.
Unlike regular gym sneakers, clipping into the pedals helps to evenly distribute the work between the different muscles in your legs, glutes, and core – resulting in a more effective workout.
So even if you're used to cycling outdoors on a road bike, switching to indoor cycling shoes with SPD cleats for a spin class can make a noticeable difference in your workout.
Gym Sneakers May Not Provide the Benefits of Clipping in for Indoor Cycling
While it may be tempting to hit the spin bike in your go-to gym sneakers, it's important to understand the benefits that come with clipping in with cycling shoes.
Indoor cycling shoes are designed to provide stability, support, and power transfer while riding.
Traditional gym sneakers lack a stiff sole and clip, which can result in a less efficient workout and increased risk of injury.
While road cycling shoes may work for indoor cycling, it's best to invest in shoes specifically optimized for spinning to ensure the best workout possible.
Mountain bike shoes with SPD clipless pedals can also provide a suitable alternative.
Mountain Bike Shoes Are Compatible with SPD Clipless Pedals
Mountain bike shoes are compatible with SPD clipless pedals, making them a great option for indoor cycling workouts.
The two-bolt design of SPD cleats can easily clip into "Spinner" bike pedals, providing a secure connection between rider and bike.
While indoor cycling shoes may be optimized for indoor workouts, mountain bike shoes can offer a versatile option for those who also enjoy outdoor cycling.
They may not offer the same lightweight design as road cycling shoes, but their compatibility with SPD clipless pedals makes them a valuable investment for avid cyclists.
Conclusion!
While road cycling shoes can technically be used for spinning, they may not provide the optimal experience for indoor cycling workouts. Spin shoes are specially designed with the needs of indoor cycling in mind, such as a firm sole and a clip that attaches to the pedal of the bike. Using road cycling shoes may not be as comfortable or efficient during a hot, sweaty spin class. Additionally, indoor cycling shoes may be heavier than outdoor road biking shoes to provide better support and stability during the workout.
References
https://www.bicycling.com/bikes-gear/g35100184/spin-shoes/
https://spinning.com/guide-to-cycling-shoes/
https://www.livestrong.com/article/95644-benefits-cycling-shoes/
https://www.verywellfit.com/how-to-choose-a-cycle-shoe-5198570
https://www.womenshealthmag.com/fitness/a19894492/best-indoor-cycling-shoes/
https://tommasocycling.com/blogs/tommaso-nation/indoor-cycling-how-to-choose-your-shoes-cleats
https://www.insider.com/guides/health/fitness/best-shoes-for-spin-class
https://www.nbcnews.com/select/shopping/best-indoor-outdoor-cycling-shoes-ncna1276429
https://indoorcyclingtips.com/are-indoor-bike-trainer-shoes-the-same-as-road-bike-shoes/
https://swiftcyclist.com/indoor-shoes-for-outdoors/